Before Making a Complaint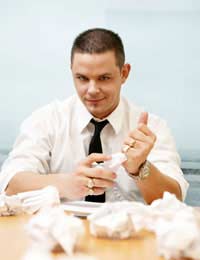 Before making a complaint it is important to think clearly about what has provoked it, what is to be done and what outcome it deserves, otherwise the intended effect of the complaint might be lost.
What Prompted the Complaint?
Once having decided that a complaint is the necessary step to take then the next move is to consider what prompted the decision in the first place. It is crucial to be clear in the mind why one is dissatisfied so that the problem can be successfully conveyed to the recipient. Was it the rude service, the substandard product, the overcharging?
If the root of the cause is not well defined, then it too easy for a complaint to veer into sounding like an emotional rant. This increases the likelihood that it will not be taken seriously and that the complaint will be a waste of time.
Those people who deal with the public on a regular basis are commonly confronted by objectionable people who are more interested in loudly expressing their dissatisfaction than getting a resolution. An ill thought out complaint, particularly one not delivered in a calm and collected manner, could easily sound like such familiar ravings and be similarly dismissed.
What is the Intended Outcome?
An equally important consideration when making a clear and effective complaint is what the complainant hopes to achieve by making it. Do they want compensation, an apology or replacement goods?
If a complaint sounds like it has no purpose then the more it sounds like an aimless grumble, and the less likely it is to be taken seriously. A complaint is a protest and a demand of prompt action and should be undertaken with the aim focused in the mind. The aim should also be fair and realistic otherwise it will lower the chances of getting just conclusion.
Calm and Collected
A complainant should consider their attitude before taking action. It is crucial to remain calm and collected at all times, however the recipient behaves. Getting angry will never help solve any problem and only succeed in confusing the situation. It is always harder to think clearly when in an emotional state.
If complainants adopt a fair but firm business-like attitude, they should expect a similarly professional response. An angry attack will only ever achieve an equally heated response or the intimidation of the recipient, and when they are rarely responsible for the problem or have the authority to take action, this is somewhat inappropriate. The complainant should also consider that most people dealing with the complaint will want to solve it as much as they do.
Preparing the Proof
So that the complaint can be dealt with as efficiently as possible it is crucial to beforehand collect as many details as possible relating to the case.
These details could include the date and time of the incident, the name of anyone involved and any receipts, letters or associated paperwork. If it is appropriate, such when an item is damaged, then it is increasingly common for people to take photographs to use as evidence. All of these items will add weight to a complaint and increase the chances that it will be taken seriously and resolved accordingly.
The Manner of Complaint
The complainant must also consider the manner of their complaint. Should it be done in person, by letter, telephone or email?
Some believe that direct confrontation either in person or on the phone is the key to direct action whilst others think that a letter, although slower, has a more resounding impact because it is hard written evidence that is harder to ignore. Others favour a combination of both.
The manner of complaint is however often dictated by the area being addressed. Different sectors have different complaint procedures in place to effectively deal with any problems. For instance a customer unhappy with their badly designed toaster will pursue different avenues of complaint to someone who is being chased for a debt they haven't accrued. Many companies, particularly the larger firms, have an official complaints procedure or department in place.
You might also like...
Here is my essay on whats happened After making a mistake with making a payment online .i contacted Alpha rooms on the 25/10/2017 and on their advice i cancelled my booking and created a new one.I was told the refund of my money (the complete payment of my hotel £2258.60 )would be charged back to my debit card within 3 to 5 days.I called back on the 9/11/2017 and spoke to Benjamin Who told me there had been a technical error and my money would be refunded in 3 to 5 days.I then recieved an email from them saying.( Hello, Thank you for contacting alpharooms. Today we have processed a refund of £2258.60 back to your card. Kind Regards, Sudha Analyst - Finance ) After 5 days still nothing.i contacted Alpha rooms again to explain ive had no refund . I spoke to Leo who contacted the accounts team and they said they had processed the refund on the 9/11/2017 He also sent me copies of the Credit transaction summary and to show this to my bank.Which i did and they said they had had no refund into my account and nothing was pending for any reason and they would never block any payment into an account .So clearly there is a problem at Alpha rooms. I contacted them again and was asked for a copy of my bank statement which they have recieved and can clearly see no refund.I have asked numerous times for them to ask the accounts team to resend the refund as they can see i havnt received anything.I contacted them again today and spoke to Austin who sent me the exact same email as Leo and told me to show my bank.Which i did and the bank said it must be a problem with Alpha rooms accounts You can clearly see there is a problem and I know you have sent me the refund transaction receipts but you also have my bank statements and me and my bank are not lying to you I have had no refund There is a problem at youre side .Ive no doubght that the refund was processed on the 9th of Nov But it has not arrived in my bank account as you can clearly see from my bank statements so there is a problem Alpharoomsafter still not managing to refund my 2,200 pounds to my account for over a month! You have easily managed to withdraw 450 pounds from the same debit card yesterday The latest Help from Alpharooms Hi Keith, we can confirm your refund has been processed from our end. Please can you contact your bank and provide them with the following ARN number #####2813, as the refund has left our account. Thank you. ^Mindi Keith Hi Mindi We can confirm that we've already checked the ARN numbers with the bank and they confirm that we have received nothing into our account Keith Mindi That is our booking reference number and NOT an ARN number Please send ARN numbers now
kdc
- 23-Nov-17 @ 10:56 PM
We holidayed at Bahia Principe Costa Adeje Tenerife 11/20 April on te recommendation of our daughter who stayed there last year.At check-in we were told nothing about the restaurant booking or even how to get our towels or directions to our room.After one day we asked to change hotel as it was out on a limb with nothing nearby & our daughter was staying in Playa Fanabe some 20 mins away by taxi.We spoke the website via reception but were refused to move hotel & the staff were disinterested.Due to lack of wifi ( we paid 20 euro for our daughter to have it everywhere but the was a joke) we missed a restaurant booking & 'guest services' would not rebook it do us so we only had 2 speciality meals during our 9 day instead of 3. the sunbeds were a nightmare having to be claimed before 8am and sat on until breakfast started ! The food was tepid & our daughter find a creature on her plate! Also it is an all inclusive hotel but we were allowed only one drink at mealtimes & were humbled At if we asked for another!The day before we returned home our room keys would not work & the guys on reception talked amongst themselves before handing us new keys - no apology & blamed us for keeping the keys near our mobile phones - which we hadn't!.We tried to eat at the Tiede buffet at a different part of the hotel but were refused entry as it wasn't our wristband colour!Consequently we wanted to get Away from h hotel so every day we paid 30 euros to go to Fanabe Beach o see our daughter who simply could not believe the terrible service we were enduring!On checking out it was the same girl who checked us in & she asked if we had enjoyed our stay which I told her we had not but didn't make a fuss & I asked for a complaint form which I completed & handed in there & I have a stamped copy.I have complained direct to the hotel as the cost was £3000 for what is described as a 4 star hotel which was not up to scratch & customer service was terrible! I have been fobbed off completely & offers a Gold upgrade if we would book again but that is unacceptable. Because we booked direct with the hoteland they are not covered by ABTA where an we direct our complaint to? We feel that some firm if compensation should be offered at the very least? Ur ughgs 30 euro o
Lisey
- 6-Jun-17 @ 8:18 AM