What Issues Are We Complaining About?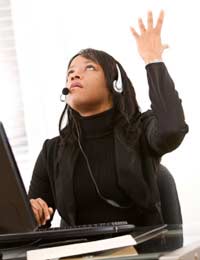 Dodgy second hand cars provoke the greatest number of customer complaints, but mobile phone services are catching up fast, according to the annual survey of a major UK consumer body.
Consumer Direct Survey
A report by the government advice service Consumer Direct found that from over 800,000 complaints from consumers across the UK during 2007, close to 42,000 concerned second hand cars bought from independent traders, a 18% increase from the previous year.
Mobiles and Second Hand Car Irritation
The stats show that complaints about mobile phone service agreements are putting up a strong fight for the top, appearing in second place with almost 35,000 complaints, a 49% rise from last year. However in regional version of the survey found that in the tech-savvy, new car driving capital, mobile services were the number one bugbear.
Complaints about mobile service agreements are collected separately from those concerning the phone hardware itself. Interestingly, if the two were combined into one 'mobile phone' target of consumer aggression then they would rise to the top with some considerable ease, as hardware occupies forth place with almost 18,000 complaints.
Although if complaints concerning independently sold second hand cars were combined with those from franchise dealers then they would the clear winner. Clearly mobile phones and second hand cars should be avoided by anyone with anger management issues.
What Else Are We Complaining About?
Other topics of irritation for the UK populace include TVs, internet service providers, upholstered furniture and general building work.
However, in a recent consumer survey, junk mail was found to be the number one gripe. The survey of 1,029 people by the consumer group Which? concluded that customers are less satisfied with their postal services than with internet providers, banks and mobile phone services.
The controversial results met firm opposition from Royal Mail whose own research found the opposite to be true, with 92% of its customers expressing their satisfaction.
Complaints in Scotland
The annual results from the Scottish Consumer Direct showed that the service had not caught on as significantly as south of the border but showed some interesting findings nevertheless.
Leather furniture was found to be the number one source of grievances for Scots for the second year running, with almost 1800 complaints recorded. It is closely followed by the familiar irritants of second hand cars purchased from independent and franchise sellers.
Other top ten concerns from the Scottish population include double-glazing, fitted kitchens and the omnipresent spectre of mobile phone service agreements.
The Rise in Complaints
The significant rise in the number of complaints recorded in the Consumer Direct report - 18% up from the previous year - shows both an increase in the eagerness to complain about unacceptable goods and services and growing awareness in the UK of the benefits of the consumer service itself.
The service was founded in 2005, with the purpose of giving consumers information and advice to help them resolve problems with service providers, and these results show that it is already having a positive effect.
Saving Money
In addition to these findings, at least half of consumers that contacted Consumer Direct and resolved their complaint satisfactorily saved over £100 per person. This is according to a recent survey of the advice service. 52% of the 878 successful complainants featured in the survey managed to save in excess of £100 through repairs, replacements and refunds.
You might also like...