Why Complain?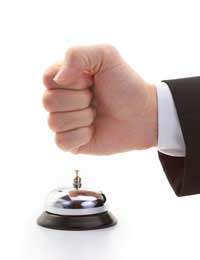 Complaining is a means for people to assert their rights and stand up for themselves, but instead of feeling empowered the average UK citizen sees complaining as both a futile and unsavoury act.
It Won't Do Any Good
There are a great number of reasons why nearly half of the UK's population will not make a complaint; some can't be bothered with the hassle, others don't know how to go about it, some don't want to be seen as a moaning Victor Meldrew and many just don't think it will do any good.
It is the irony of the British distaste for complaining is that they characteristically do love a good moan when things go wrong; they grumble to their friends about being charged too much for a slapdash floor fitting or how their over-priced train commute is regularly delayed due to leaves on the line. However they just don't want to actually do anything about it.
Without Action and Nothing Will Change
A food and drink website survey revealed that 38% of people asked would never complain about a bad restaurant experience no matter how terrible it was. 20% of customers don't complain about unsatisfactory products, according to a consumer report, a troubling lapse that equates to £8.3 billion worth of inferior products.
But if nobody complains about substandard products and services then nothing will change; the restaurant will continue serving up second-rate food and the manufacturers will keep its shoddy production line rolling.
Unsavoury Act of Complaining
The word 'complain' has unjustly acquired negative and unpleasant connotations that have obscured its true meaning and power. It has become confused with moaning and grumbling, as if complaining is an irritating and futile indulgence of bad-tempered people with nothing better to do, an association that the nation's favourite complainer, TV's Victor Meldrew, has done little to discourage.
Positive Action
In reality to complain is to assert one's rights; to stand up for one's self and not be ripped off or taken advantage of. It might involve demanding a product replacement, compensation or simply the satisfaction of telling someone that their service is just not good enough.
But it also has significance beyond the personal plight because to complain is to say the system is flawed and needs to be improved, and the implications of this can benefit other people and the service providers themselves. Therefore in actual fact the word 'complain' has less in common with whining self-pity and more with positive action words like 'protest' and 'feedback'.
A prime example of this positive side is the growing trend of organisations to actively welcome complaints from its customers. A forward thinking company is always looking for ways to improve its service, and complaints provide an invaluable aid to see where they are going wrong and what they can do to change it. This positive attitude towards its more critical audience also helps to maintain customer loyalty.
This should be a wake up call for those 35% of UK consumers questioned in a recent customer questionnaire, who didn't believe complaining about a poor service or product would make the slightest difference.
You might also like...
Hi Don't deal with quingo under any circumstance,they pressure sell keep phoning . When you cancel they say you have to have another visit ,it's a lie all they do is send it through the post that you pay for. Still waiting over 2 weeks for refund.avoid
Brian
- 24-Oct-16 @ 3:04 PM
I had booked an air ticket using Opodo's website, this was a fully refundable ticket. down the line I had to cancel the ticket as my parents visa got rejected. at this point I requested for a refund, Opodo managed to execute the refund but with incorrect or incomplete beneficiary details. the account to which the refund was made is in India. my bank had to return the money via the same source (remitting bank) as it couldn't locate me (the account holder) due to lack of correct/complete information. Its been 2 years now, I am still struggling to get my refund which amounts to £1328. I would like to seek some advice on my next steps to complain against Opodo. Opodo has stopped responding to me on Twitter, Emails and there is no way that I can get through to their customer service centre as the calls drop off after keeping me on hold for some time. Frustrated and agitated by this behaviour I am currently clueless. any guidance would be much appreciated.
Deep
- 15-Sep-16 @ 5:53 PM
Crystabel I currently have major issues with the KBSA. Their member that fitted my kitchen is 100% a rogue trader and this is supported by an expert report I have had commissioned. The KBSA have largely ignored my complaint and sided with the retailer without talking to me or visiting site. They are inept and unethical. I keep posing the question why are they supporting a member who is clearly in breach of their Code of Practice, Consumer Charter and Consumer Guide. They will not answer. I dont know how we can connect through this site but we should talk and coordinate our efforts, we cannot be the only two people with issues.
Bull
- 20-Oct-15 @ 7:01 PM
@crystabell - I have included a CAB link
here
which explains all you need to know about the process you are going through and where to turn next if Trading Standards can't help you. I hope you get a result.
ComplaintExpert
- 1-Jun-15 @ 10:52 AM
The kitchen company we used turned out to be dishonest. They are a member if the KBSA, Trade organisation who own the Code of Conduct, the code states that the Company are legally responsible for fitting the kitchen, measuring, installation -including water electricity etc., They did not fit the kitchen as per contract they blamed us and asked for money on several occasions to put things right. We ordered the kitchen in February 2013. I took until November for us to get most of the Kitchen sorted out. The KBSA claimed that the Company did nothing wrong. In February 2014 the electricity failed when we were on holiday. Faulty wiring caused the problem. It took the KBSA 14 weeks to respond to our complaint. In 2015 I again reported further problems to the KBSA. The kitchen company claimed they had given us money as a good will gesture. They could not provide proof because they made no such gesture. How do I get Trading Standards to respond, I have been waiting for months? Where should I go next?
crystabell
- 27-May-15 @ 5:00 PM