Praising and not Complaining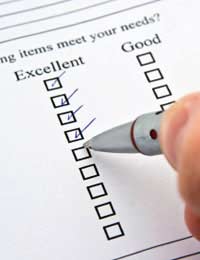 To enable to quality products and services to prosper, it is not only vital that an organisation is told when they are doing something badly, but also when they doing something well.
What's the Point?
Too often people think that whereas complaining can be a powerful force at helping to right wrongs, praising is useless – what's the point congratulating a service provider for just doing its job properly?
A Consumer's Tools
However, just as companies need to know when they are doing something wrong so they can stop or improve it, it also helps to know what they are doing well to encourage them to keep on doing it. Praising and complaining can therefore be seen as tools a consumer can use to cultivate and weed out the marketplace and allow the good quality service to flourish.
This idea has been borne out the number of shopping websites, such as ebay and amazon, which now employ a customer rating system for third party sellers. This allows potential buyers to assess which company will likely provide exemplary service and which won't, based on the praise and 'complaints' of past customers.
Rewards
Beyond the satisfaction of helping promote a high standard of service for everybody, praising can have its own tangible rewards.
A letter to a manager, owner or director that applauds the product or service will often be rewarded with a kindly response thanking the writer for their comments.
Companies certainly value the praise, but they are also well aware that a happy customer will often share the happiness by recommending the service to others. It's good business sense to show effusive appreciation. A response enclosing free samples, money off vouchers and gift coupons is therefore not uncommon way of showing ones gratitude.
We All Welcome Praise
Most people like to be praised for doing a good job – it raises the spirits, makes one feel valued and important and promotes further good service. Without it it can be easy to slip into the attitude of - why bother making such an effort when no one seems to appreciate it?
They likely do, but just don't think to acknowledge it. There is a human being on the other side of the divide slogging away in an effort provide a quality service, and who would love to hear how much their efforts are appreciated.
Companies can of course judge their success by how many of their customers keep coming back, but nothing compares to a phone call or a letter from a client saying how happy they are with a service.
Personal Satisfaction
If specific individuals are responsible for providing the sterling service, and not the organisation as a whole, then every effort should be made to commend them by name to their superiors. If an employee's name is referred to in a positive way up the chain of command, then it can make a significant impression on their career prospects.
This is another example of the power the consumer has in the cultivation of their marketplace and service sectors. Not only have they the clout to weed out the bad employees, but also they can use their influence to promote those that deserve it.
You might also like...