Can Patient Feedback Help Improve Healthcare Standards?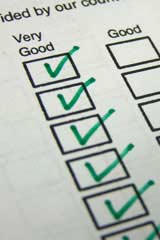 The former prime minister's call for an "information revolution" that would give people the facility to provide "eBay-style feedback" on public services is happening for healthcare. But can it work?
The Online Feedback Revolution
Whether it relates to a hotel, restaurant, banking service, online shop or home building work, there's no question that the facility for customers to give feedback on the services they receive is helping to improve standards.
Thanks to internet sites such as Qype, MyBuilder, eBay, and TripAdvisor, a good or bad customer experience is no longer confined to the individual and any friends within earshot, but can be broadcast across the web for anyone to hear as online feedback. When relayed on a web platform, the combined effect in attracting or deterring future custom for a particular service can be considerable. Therefore any business wishing to survive cannot afford to ignore negative comments but must minimise their appearance by trying to keep every one of their customers satisfied and appeasing any dissenters by tackling the issues they raise. So in essence feedback has the power to raise standards and prompt positive change. But can the same concept work for healthcare and help increase the standard of care patients receive from GPs and hospitals?
A New Solution for Improving Healthcare
Some argue that the conventional ways of checking and maintaining healthcare standards, such as inspections and hospital league tables, are not working effectively enough and the online review system could play an important role in helping improve the patient experience. Websites such as NHS Choices and Patient Opinion give patients and visitors the opportunity to provide feedback on what they liked and disliked about their GP or hospital visit and offer any suggestions of how things could be improved. At the very least, it is hoped that with such a feedback programme in place recent healthcare scandals such as that at Stafford Hospital, where patients were routinely neglected, would never occur.
Patient feedback not only helps inform health service what they are doing well and what needs attention, but also, given that patients are now able to choose which hospital to be treated in or doctors to register with, it can help other patients make better informed decisions about where they want to be treated – much like they would in choosing a restaurant using Qype or a hotel using TripAdvisor.
On the NHS Choices feedback facility users are asked to rate such factors as how effectively they are able to secure an appointment and whether they are treated with dignity and respect by the staff. Most crucially they are also asked whether they would recommend that particular GP to a friend.
Problems
The problem with introducing such a system for healthcare is that people do not expect to give feedback every time they use a public service. The only time you might feel compelled to air your comments voluntarily would be if you were particularly unhappy about an experience and wanted something done about it. Even those very happy with the care received are still unlikely to feel motivated to publicly voice their satisfaction given that that is just what they would expect from a public service.
What this means is that, at the moment, the feedback is most likely to be too small in number to provide the health services with an accurate survey of which areas are failing and which are performing well, and too negatively orientated to give prospective patients a fair representation of the standard of a particular healthcare facility. At its worst it could do more harm than good, worrying patients unnecessarily and undermining the good work being done by staff.
One might suggest that this is just perpetuating the "feedback" the health service already bears the brunt of from the media, where the consistently negative publicity only serves to damage its reputation among the populace and crush any confidence amongst healthcare staff. Telling someone that what they are doing is terrible over and over again is not an effective way of making them improve, not least because it is does not fairly reflect their overall performance.
Culture of Feedback
Therefore for a feedback system to work successfully it needs people to comment when things are done well. Health services need to know what they are doing well as well as where they could improve. The way some online review systems have achieved this is by breeding a culture of
always
giving feedback, even if there is absolutely nothing exceptionally good or poor about the service they received.
With eBay and Amazon Marketplace, customers are expected to give feedback on every transaction made. Given that even the least efficient sellers will still manage to complete the majority of their sales effectively and with no reason for complaint this will result in a predominantly positive rating, but, most significantly, one that is still a fair reflection of the standards provided. If eBay did not encourage all buyers to leave feedback on sellers then the customer most likely to give feedback would be the disgruntled one. Would-be buyers would then be scared off by unbalanced set of reviews suggesting the seller is unable to dispatch an item without a disaster occurring. This is not an impression the health service would welcome.
Encouraging everyone to review their healthcare experience will not only create a fairer impression of standards but will also better highlight the areas that require attention; if one or two patients use a feedback service to criticise the cleanliness of a hospital, for example, then it will not have the same effect as if a hundred patients do so. Ultimately the more people comment on the service they get, the more likely the health service will listen and do something about it.
You might also like...