Online Shopping: A Case Study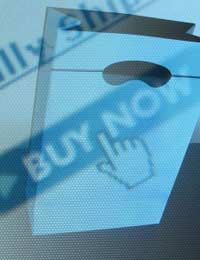 Online shopping is booming and few sites are as popular as the auction site eBay, where one in three shoppers trade, but how safe is it? In this case study we highlight the dangers of bogus auction traders.
Grey Market Trading
Auction websites such as eBay are increasingly becoming popular as channels for the sale of counterfeit and illegal items, such as consumer electronics, fashion items and cosmetics, according to recent research. For every £100 spent around £5 is spent on counterfeit goods, the study claims.
Online shoppers need to be aware of the dangers of so called 'grey market' trading and what they can do to avoid forking out for a designer item only to find that it's a fake.
Fake Jeans
Karen from Wales thought she'd bagged a bargain when she bought a pair of Victoria Beckham dvb jeans. As they normally retailed at over £200, Karen thought she had snapped up a bargain when she bought a pair on eBay for £67. Unfortunately, as with many luxury good bargains on auction sites, it was too good to be true.
When the parcel arrived a few days later, she became suspicious almost immediately. Considering it held a pair of diamante encrusted jeans, the package felt dubiously light. Upon opening it up, Karen's fears were confirmed – the jeans were clearly not as Mrs Beckham intended.
When Karen contacted the seller on eBay to inform them about her suspicions and request a refund, the seller refused.
PayPal Protection
Fortunately Karen was sensible in having chosen to use PayPal, the payment facility which offers customer protection if a sale goes wrong. Nevertheless, it doesn't relieve all auction safety anxiety because certain guidelines need to be adhered to in order to get your money back. Most importantly, a complaint claim needs to be made within 45 days. For counterfeit claims, such as Karen's case, you have to provide proof from a credible expert to prove the item is a fake.
The experience has been eye-opening for Karen. She says she would never buy designer items on eBay again, after having had come to the realisation that although counterfeit items are banned on eBay that doesn't mean they aren't there.
Bogus Sellers
Karen is one of many to have been cheated by online auction fraudsters. She was fortunate to come away from the experience relatively unscathed, but many others haven't been so lucky. 15-year-old Harriet bought a laptop on eBay for £112 thinking that she had picked up a real bargain, but she became another victim of bogus auction traders.
This time the item just failed to turn up. Harriet had also taken the precaution of using PayPal so that the payment is only handed over once the item has arrived and been deemed satisfactory. However, when she complained that the laptop had not turned up, the seller assured her that it was on its way and, convinced by the reputable sounding company's reassuring words, she promptly closed the dispute. This was her fatal mistake.
Whilst the complaint was open, under the rules of PayPal, Harriet could have got her money back at any time. However, its closure inferred there was no further problem with the sale, and so PayPal, assuming that both buyer and seller were happy, promptly handed Harriet's money to the seller. The reality, of course, was that Harriet left with no money and no laptop.
Unfortunately, beyond reporting the matter to the police, there was not a lot more that could be done. The case highlights how limited the security measures are for eBay shoppers. By simply closing the dispute prematurely, Harriet had surrendered the minimal buyer protection she was entitled to.
Online Shopper Advice
Those bargain shoppers undeterred by such scare stories are advised to first look at the price of the item they want to buy. Although eBay is renowned for its bargains, largely these are confined to the second-hand private seller sector, new luxury items rarely dip too far beneath their retail prices. So if you see a new item at a particularly low price then it is advisable to be very wary, or better yet avoid it altogether.
If you don't want a genuine bargain to slip through your fingers then Trading Standards recommend emailing the seller to ask whether the item is authentic. If the seller confirms that it is and it turns out not to be then their corroboration can be used as evidence against them.
If you are unsure about an item's origins once it has been delivered then some tell-tale signs include spelling mistakes, poorly sewn labels, bad stitching and general shoddiness.
Needless to say PayPal is essential for payment. It entitles you to cover of up to £500, as long as you follow their guidelines.
You might also like...
Hi we purchasedfrom e bay4X4 FREELANDER 2 monthes ago.we found engine wasproblem.then we discussed with private garage and spend £1100 replace the engine.but still we found too much smoke while running .the garage pwner refused to repair and neglected many weeks.now I had spend nearly £3000/ for this . How to make a complain? Thanks Dariya
roy
- 21-Jul-15 @ 4:17 PM