Making a Restaurant Complaint: A Case Study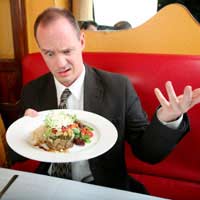 Restaurants are a constant source of dissatisfaction but too often customers are reluctant to complain. In this case study we highlight how taking action will often bring results.
The Classic Complaint
Anybody that enjoys going out to restaurants will inevitably have a ready supply of tales about evenings that have been spoilt by bad meals or terrible service. It is the classic bugbear. So why don't restaurants don't figure more prominently in Consumer Direct's top ten targets of customer wrath? Judging by the number of grievances heard from friends and relatives, you'd think restaurants would be tussling for the top spot, at the very least.
The reality is that, although every day thousands of diners stare in disbelief at their plate or wither away waiting for a waiter, very few actually complain about it.
Why Are Diners Reluctant To Complain
If you complain at the time then it will involve unsavoury confrontation and likely sour the occasion completely - better to salvage what's left and just vow never to return. But of course you can't complain afterwards either because that would be going over the top. Is it worth going to all the trouble and trauma of reliving the disaster in a letter or email, especially as the restaurant would think, if it was so much of a problem then wouldn't you have said something at the time?
Instances where people have complained in a polite manner have shown that it certainly is worth it. Restaurants are founded on customer satisfaction just like any other business. If you buy a jumper from a shop and it falls to bits as soon as you put it on then naturally you'd take it back for a replacement or refund, so why not with a foul tasting meal? Customer power in restaurants is a rich area of complaint that is going largely untapped.
Customer Action
When a diner endured a miserable experience at central London restaurant, where the meal was substandard and the staff were very rude, beyond brooding and muttering under their breath they failed to take any action at the time. It was only once at home that they decided they weren't going to let it go.'Punishing' the restaurant by vowing never to return would not be enough, this time they put their feelings into words and wrote a formal letter to the establishment detailing their unhappy experience.
In response they received a lengthy apology from the restaurant, with assurances that they would take measures to improve both the quality of food and customer service standards. What's more they enclosed a cheque for £50 to compensate for the upset and inconvenience caused.
Although you might be pleasantly surprised to receive such a response, it is far from untypical. Restaurants know all too well that unhappy ex-customers are very bad for business – particularly vocal ones. They will tell their friends and family about the restaurant, they may even post a negative review on the Internet. For a sector that relies so much on recommendations, this is bad news. A comprehensive apology and compensation is therefore standard practice to stem such ill feeling.
Sickly Meal
When one individual from Reading was awoken in the middle of the night with a sickly stomach upset, they narrowed the cause down to the romantic meal they'd enjoyed the previous evening at an Indian restaurant. After some deliberation about whether it was worth a complaint to the establishment, they decided that, having suffered great discomfort and had their weekend effectively ruined by the incident, they were more than justified in speaking out. So they promptly filled in the restaurant's online customer comments page.
Although the restaurant were unable to identify the source of the sickness, having had received no similar complaints, they were nevertheless profuse in their apologies. As way of compensation they offered to lay on an evening for the complainant and three of their friends entirely at their expense, and with complementary champagne included.
What both examples serve to illustrate is how much most restaurants value their customers, and how, if prompted, they will make pains to address any dissatisfaction. If you are footing the bill then you have every right to expect that good standards are upheld at all times.
You might also like...