How Do I Complain About My Travel Card?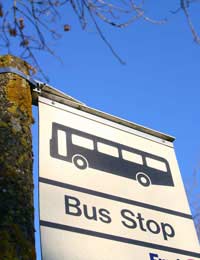 Q.
My husband I were travelling on the bus yesterday, he swiped his Oyster card on the Oyster machine, the machine deducted the required money but the driver still wanted us to pay more and he charged £2 top of that. I have an Oyster card with all records and the bus ticket, should I sue them? How do I complain about my travel card and claim the money back?
(Miss Urvashi Sharma, 9 September 2008)

A.
The Oyster card is a London system that lets you pre-pay into an account for your bus and underground travel in the capital, paying by swiping your card, which then deducts the appropriate amount from your account. Introduced in 2005, it's generally worked very well, although it did experience two major crashes within a fortnight of each other back in July that meant the replacement of around 35,000 cards – a figure that might seem a lot, although it's not, considering there's a total of six million Oyster cards out there, according to Transport for London (TfL), which runs the system.
You didn't say why the driver charged you the fare plus a penalty. Certainly, if the Oyster had registered for him, it shouldn't have been necessary. Obviously it deducted the amount from the account, since you have a record of that.
It's difficult to offer effective advice without the full facts. But if there was a glitch and the Oyster payment didn't register for the driver (and the system isn't perfect), then he was simply doing his job and making sure the fare was paid, although the penalty makes no sense.
What you need to do is talk to Transport for London. Take in your records. They'll certainly refund the money to your husband's account, and you may find there's a simple explanation behind it all. If not, they can investigate. You can demand some compensation, although it's unlikely to be forthcoming; better to settle for restitution and an apology.
It seems highly unlikely that the driver was singling you out to be bloody-minded, but if his actions were wrong, then TfL will take the appropriate action with him. They have an image to protect, and a code of conduct, and don't want drivers tarnishing that.However, no matter how angry you are, filing suit against the driver isn't a productive step. Your quarrel is with TfL; he's simply an employee. Even trying to sue TfL isn't a good idea, given the way the justice system is clogged. You're much better off trying to resolve it amicably. The likeliest explanation is a technical one, which will bring about a swift resolution once you bring the problem to their attention.
You might also like...