Starting Your Own Campaign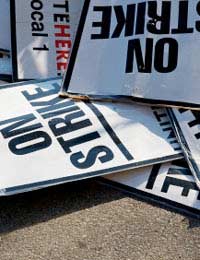 If there's an issue you strongly believe needs to be addressed then don't wait for someone to take action, start your own campaign.
Do it Yourself
Across the UK literally hundreds of volunteer organisations are tackling a huge array of social and environmental issues, from fighting for human rights to campaigning against war and environmental destruction. However, you may feel there is still an important issue not being addressed.
It could be local concern – perhaps you are concerned about the lack of facilities for youths, or the elderly. You may feel strongly about the short shrift meted out to society's 'outcasts' like drug addicts or asylum seekers, or object to the building of a new housing estate on public open space or the demolishing of a historic local landmark.
All charities and protest organisations begin with one pertinent issue and someone with the belief and determination to fight its cause. You can do the same by starting your own campaign.
Working With and Not Against
Before storming forth with your grand plans of social reform it's worth doing some groundwork first.
You should begin by establishing who is responsible for the action or inaction that has inspired your fledgling campaign, and then contact them directly. It is important to establish whether they are actually opposed to your plans or simply unable to address the issue, due to a lack of available resources for instance.
If it is the latter then perhaps they would support your endeavour. They may welcome the ideas and, through fundraising, the resources your campaign could offer. For example, your local councillor could be looking for ways to reduce youth crime in the area and your plans to improve recreational facilities or reopen an abandoned youth club could be just what they're after.
Ultimately local councils should have the interests of the local population at heart and if you believe your campaign idea would benefit your community then by rights they should want to work with and not against you.
Seeking Support
Seeking support is vital in establishing the groundwork for any campaign, particularly when you are a lone crusader with no experience.
It is therefore a good idea to research other established protest organisations in the area that might be sympathetic to your plight. If they agree your idea is a worthy one they might be able to offer the benefit of their facilities and experience in campaign management. Furthermore they can offer the key element in any successful campaign - people support.
You can find out more information about the organisations operating in your area from your local Volunteer Centre (VC).
Help and Advice
Nevertheless if you do have to start from scratch there are many groups that can offer advice and information.
Useful sources of support might include a local Citizen Advice Bureaux, or a local Council for Voluntary Service, which is the voice of local third sector infrastructure in England. If you are between 16 and 24 then it is worth researching Vinvolved, a UK wide youth action scheme that can help young people set up their own projects.
Protest Action Considerations
If your campaign has to resort to protest action in order to accomplish its aim then you must first think carefully about what method will best achieve the desired impact – a picket, vigil, march or rally, for instance.
You must also consider what your achievable aims are. Are you seeking to persuade a particular group of people about a decision – such as a company's decision to demolish a local landmark - or are you planning to demonstrate or rally support across the community as part of a long running campaign?
Another important aspect to consider is whether publicity is an important factor in achieving your goals. Many successful campaigns, regardless of size, have attracted and won public support through as shrewd manipulation of the media. They may have drawn attention with imaginative and unusual stunts or through well-organised demonstrations of mass political support.
You might also like...