How to Complain About Your Boss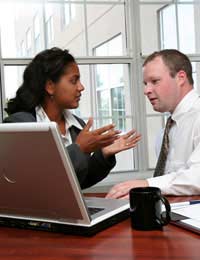 Making a complaint about your boss is risky because unwarranted complaints can jeopardise your working life and even your career, but if your manager is behaving inappropriately then their actions must be confronted.
Dangerous Territory
An exemplary boss is a rare breed. Most employees would be able to find something amiss in the behaviour and abilities of their manager, but are their actions or lack of action serious enough to be grounds for complaint? Making a complaint about a superior is dangerous territory. An ill-considered protest could easily damage your job prospects and make your working life even worse. It is therefore vital that you only complain when you are convinced it is justified.
Reasons for Complaint
Reasons for complaint can take various forms from bad management and job ineptitude to more serious issues like discrimination and bullying.
If your boss is simply unfit for their position, such as through being unwilling to take responsibility, shunning new ideas, discouraging initiative or by just being incompetent and out of their depth, then it can be very difficult to justify raising a complaint. Is their incompetence worth the risk of jeopardising your position and being branded a troublemaker or a whinger?
Act with Care and Sensitivity
If you are adamant that action is required then it is important to tread carefully and act with utmost sensitivity. After all, your boss may be unaware of their own limitations and be trying to do what they think is best. It is an unfortunate reality that many managers are not adequately skilled at managing people.
One course of action is to speak to their superior. Rather than demand a formal meeting to vent your complaint, it is wiser to suggest a casual chat where you can calmly explain that you are not being allowed to perform at the best of your abilities in your current role. Rather than blame your boss, explain how your relationship with them is proving frustrating and restrictive. It may also be worth commenting that their behaviour is not only undermining your own performance but also that of the team.
Rebuilding Working Relationships
If speaking with their superior either has no effect or is not appropriate then it may be worth attempting to make headway on the ground by adopting a more positive and constructive outlook towards you boss. If you have decided that your boss is incompetent you will likely see everything they do in a bad light - perhaps unfairly. Attempt to build bridges by establishing open and friendly communication both with your boss and within your team, and also by adopting a new enthusiasm for your work.
Is it Directed Towards you?
If you feel your boss' inappropriate behaviour is directed towards you then it is important to take action, however difficult and risky. Intimidation, bullying, verbal violence, sexual harassment, and discrimination due to age, race, religion, sex or sexuality are all serious breaches of professional conduct and must be confronted.
Does it Warrant Complaint?
Before taking action you first must ascertain whether their behaviour actually constitutes wrongful action. In certain instances, particularly with regards to sexual harassment and discrimination, it may be patently clear but there is also a large grey area between bullying and bad management.
To help establish this it may be worth speaking to colleagues to try to find out whether they have been subjected to or witnessed inappropriate behaviour from your boss.
There are independent official bodies that will help you to ascertain whether you have grounds for complaint and offer appropriate advice. If you belong to a union then your representative should be the first port of call, otherwise you can speak to the Citizens Advice Bureau (CAB) or the Human Rights Commission.
Compile Evidence
Unfounded verbal complaints will stand little chance of success and so you need to support your claim with evidence. Keep a detailed record of every incident where your boss behaved inappropriately, including the time and date, what they said or did, any witnesses and how it made you feel. Hard evidence such as emails or recorded conversations are even more valuable.
Confrontation
The next course of action is to confront your boss privately and in a calm and polite manner and explain how their behaviour is making you feel, and ask them to stop. If you feel unable to confront them yourself then you could ask a colleague or union representative to do it on your behalf or express your feelings in writing. It is vital that this communication remains impassive and fact-based.
If this proves unsuccessful then you should raise the issue with their superior. Support your claims with your incident notes and if you have secured the support of witnesses then ask them whether you can name them in the meeting.
If this route also fails to end the problem then you will have to resort to making a formal complaint using your company's grievance procedure.
You might also like...
I work for a company called mallatite based in holmewood chesterfield and my boss is an complete joke for a boos he's name is Chris Kay he's so dangerous at work because he sniffs coke and smokes weed he's never fair always picking on new starters. He needs sacking
Marked it
- 19-Jun-21 @ 2:26 PM
My boss sniffs coke at work and puts people in danger
Jacky
- 19-Jun-21 @ 2:22 PM
I think such complaints must be escalated to HUMAN RIGHTS COMMISSION and strict action to be taken against such inhuman bosses.
Trust GOD
- 11-Jul-20 @ 12:35 PM
I have been working for the same company for 13 years as a store manager. The last 2 years have been the most stressful time I have ever been through. After having a new area manager take over he has been trying to get me to leave. He had recently implied that he is going to sack me even though he's not going through any of the legal process. What would you advise??
Crazychris
- 28-May-20 @ 12:11 PM
My boss won't pay me sickpay he keeps lying saying I,ll have it sorted by this date and when that date comes nothing again.How does he get away with thiswe,re not living in the dark ages. Just, cos someone's got a few quid does not a good manager make. No rights as usual for the low paid
Caz
- 28-Feb-20 @ 12:37 PM
What can be done about a manager who is constantly saying vulgar and discriminatory things? Today he said Christian's are gay.
Hi, i have a few friends that work for a company called newlife charity for disabled children and the owner of the charities son (Carrick Brown) has been bullying and harassing alot of people who works thair, he uses his manager status to treat employees like crap, to the point of them giving up on the job and quitting and newlife knows this and he's been told on several occasions and given warnings about it by the trustees who keep letting him get away with it, ive even seen the nurses getting treated badly by him, now the company know what he's doing and know its wrong but yet he's still allowed to work thair obviously because his mum owns the company, now amungst some of the people leaving are managers who just can't handle his attitude and bullying anymore and everyone keeps getting paid off to keep quiet and made to sign a document for the money and to say they won't wistle blow and the document said that if they do they will be taken to court for data protection meaning they arnt allowed ti tell anyone about what's going on, now this is how he's getting away with it but it makes me sick to think that all the public funds and charitable donations are going on peoples silence because he keeps getting them into trouble, he's a major liablilaty and I'm unsure who to tell or who to inform and not sure if its legal to silence someone about workplace bullying and incompetence people are sick and off sick due to the depression he's caused everyone. Please help
Annon
- 20-Nov-19 @ 7:40 PM
I have worked for a towing company for almost 2 years and wow I don't know how I've done so with the treatment I have received from 3 of the 5 owners. I was looked down upon for my hair length which I ended up cutting short. I have been harassed yelled at and bullied as well as called names. They have taken money out of my checks for things I did Not do and I've asked for the money back only to be laughed at. I've seen the good calls go to other drivers and the poor calls given to me as well as other drivers they don't like. I feel that they are trying to get me to quit. One of the owners even said to me one day " I've done some really bad things in my life" which I feel is a little threat. I've brought it to their attention only to make less.money than I was before. I feel they have retaliated against me for raising concern. I am at a loss of what to do. I am raising 2 teenagers and cannot afford to be without a job. There is so much more. I've even recorded each interaction with them for my own protection. Lost in Arizona.
Johnny
- 8-Nov-19 @ 1:57 PM
Hi I work for security company from 7 months and my manager never give me jobs near my home but far away like 30 miles even if he knows I don't have transport. He put new people near their home and when I ask him about it he always find an excuse. I still don't have my uniform even is almost 6 months and he always make an excuse for that as well. I don't know where I can make a complain against him as hes a best friend of company boss. Thanks
Fusy
- 20-Oct-19 @ 3:10 PM
Is it possible for a regional officer for the union wants to see the manager of a department and did not want to see the regional officer . Is it right
Meg
- 13-Oct-19 @ 2:50 AM
My Manager at Valorum (Oaklands) in Garstang since he became the Manager the olace is alwYs stressful, nobody is happy like in the past.The home is completely desorganized,dirty.They doesn't whash bed pans,urine bottles,no gloves (must of the times,short of time all the time.Sometimes jus 3 of us for 30 residents!!!Not fair.No hygiene levels,no gloves,no waprons....no hygiene. Diane Solon from Oaklands, Valorum is the opinion off all the staff:The worst Manager ever in Oaklands. Hope hesr from you.cheers
Joca
- 16-Sep-19 @ 9:01 PM
Manager states it is my perception and OH states it is my perception.But I have told them I can show them evidence on paper.
jacq
- 19-Jul-19 @ 11:04 PM
I am being treated unfairly at work by my mere supervisor who even goes on scaring me of being fired. You may find it funny but it's the truth. I am now on to exposing her with her responses she shares whenever I request for any changes. I am ready to quit this job where we are being treated unfairly. And this should stop please for those taking us. We always be quite and you use our weaknesses to torture us.
Talala
- 15-Jun-19 @ 10:40 PM
Decided too write in a comment as am abit lost on what too do here, i no longer work with the removal company because of these issues... But for about the past year and a half my manager has been taking wages of my wage, even tho am already on minimum wage as it is... Also got suspended without pay for going into office and having a word with him about his actions and trying too explain too him how it was making me feel. But yet another employee about a few months before i was suspended has been caught twice drinking on the job and gets suspended with pay also dont like the fact that 90% of my working week seemed too be moving dirty smelly houses we shouldnt be touching and about a 100 flight of steps compared too everyone elses 2... I find these all too be an act of favourtism in workplace and bad managerial actions is there any ways or advice for me too take action against him??!.
Jordy
- 27-Mar-19 @ 1:11 PM
While Leaving from the office premises when your boss was wanting you to discuss something and you said that will discuss it later on so it doesn't mean that you have done the commitment of the purpose you were talking about
Jatinder
- 8-Jan-19 @ 4:17 AM
hi. I have been working for an international company for over 14 years. I had been nominated to join a group of work colleagues to help make the company happier. Its all about being openness as we are making a mission statement. I asked and offered an open email to all about wanting more help and detail as I wasn't certain that we where going in the right direction.the managing director is in the group, clearly didn't like my comments and came down to see me,he was threatening and very aggressive with him gesticulating about 8 inchs from my face. I made a complaint to HR as which is being dealt with in the USA, however I get the feeling that it is going to get washed away what can i request they do
jane
- 12-Dec-18 @ 12:44 PM
Hi, I am currently working in a hotel I'm due to be paid for my first month of working but I have a new manger & she dosn't seem to care other staff members are telling me to be patient, I started working before the cut-off day. Any suggestions pls ??
Hi I have an 18 years old Son and just finished high school and he's applying a lot of jobs but why all the applications he sent out of 15 application none of them get back to him but they get back to him all declined.but before he finished high school he's working at TARGET,SUBWAY. That was when my son only 16 or 17 in my own understanding it might be he's Boss make a file not on him.and it might be he's former Manager give a bad reference to the company that he's applying for. Please i need help or to speak the right person to resolve the problem please
Win
- 30-Nov-18 @ 10:42 PM
Hello. I have worked at my job for a couple months now and I have been taught to do things a certain way. But it was the wrong way and little to my knowledge we can get in serious trouble trouble for doing it. Recently one of my colleagues has been fired because she told the manager that the senior carer taught her the certain way. that senior manager happened to be the managers friend. Now I am facing the same meeting where I will have to tell her that again the same senior carer is the one who taught me to do the same. I don't want to get in serious trouble with the council or anyone because I have been taught this way by the company. What should I do?
Tina
- 26-Nov-18 @ 9:19 PM
Hi I have been working for Company for one year which I have a branch manager. I have never had a one to one or supervision. Due to my branch manager leaving I have discovered that she has been writing them without my knowledge or input and using our daily chat while serving customers and with other member of staff present as my one to ones i have never seen any of the information she has typed up or signed anything to say I agree I was also was never told our General chats would be used as them is there anything I can do about this????
My boss is the HR Manager and the reason I am turning in my resignation is because she is incompetent.How do I give an honest answer to why are you leaving the company when I have to give my exit interview to her?Would it be inappropriate to ask her boss if she would give my exit interview?
Dave
- 6-Sep-18 @ 11:45 PM
I work in a small call centre based company witch is currently expanding. We now have a customer service manager who is my direct line manager. He recently has issued me with a written warning due to my absence. My partner suffers with a personally disorder witch causes a lot of stress on home life. I have recently been trying to get her the help she has longed for her whole life due to neglect from a young age. She has no fight left in her and my worrie on that particular day was if I didn't take the time off work to be with her and she felt pushed away by her doctor while attending her appointment she would be in a very dangerous state of mind and I know she may of acted on her suisidle thoughts if I was made to go into work and wasn't with her. I made my manager perfectly aware of this 3.5 hours before my shift via a phone call on his personal mobile as there is no current attendance line. He responded to me by telling me that my job comes first and he could not adere to my needs as there was already absence that day. I then turned to my current head of HR who is the only one currently in that department as I felt I had no other option at the time. He completely understood my circumstances and advised me that there would be no repocussions for my actions and I was to attend the appointment with my partner to garreetee her safety. I was told by him to send paper work of the appointment witch could only be made on the same day by calling up first thing in the morning. I was then contacted by my line manager an hour into the start of my shift to be asked where I was. I relayed my convosation from the phone call earlier and advised him that I felt what he advised me to do was not fair. He then advised me that I was attend a meeting in work for my warning. I went into work the following day and went strait upto my HR superior and told that my line manager has breached his contact within the company and that any warning for absence would need to go though himself. I then went down to the call centre floor and when I was taken into the meeting room, my team leader was also present as his silent whiteness. He advised me that I was wrong for taking my HR superiors advise and that even tho he is the only one in that department he was not aurosrised or quallifed to give me the instructions to stay off work. My HR superior was not even aware of this himself witch made me question his title. My line manager then issued me with the warning and made me aware that it is in my contact to only take instructions directly from him. I have read my contact witch I have abtaind after coming home and under the absence section it mentions nothing about going diracly threw my line manager when I report an absence and has lied to me. There is one section that states I am to log any complaints of grevence with him. But I feel stuck when I want to log a grevence about him. He made points about giving to weeks notice for any absence as I am not married to my partner and it
Jakelilliott
- 30-Aug-18 @ 2:05 AM
Hi, I have been working in a pub for about a year now and I am underage (currently 17). Despite my age my boss has deemed it okay for me to serve alcohol, which I do every shift. My boss seems to care very little for all the employees mental and physical welfare, subjecting us all to well over the legal number of hours per week - for my age the maximum is 40 and I consistently work over that level, last week I worked 63 hours with my supervisor working over 80 in that week. I am a very hard worker along with the rest of the Front of house team at the pub, despite this he often denies us the correct amount of breaks during shifts and day break hours that are legal requirement in the UK. He also seems to favour one member of staff in particular over all of the other front of house members - despite this member often coming in over an hour late he is never called out on it by the boss. Lastly, during a very busy bank holiday weekend, the boss - who was serving behind the bar was drinking excessively to the point where he was rather intoxicated while serving customers. Thanks, just wondering what to do and who to talk to about this issue.
Foxy - Your Question:
Our new supervisor is very strict and is causing me and my colleagues a lot of stress. She constantly changes the work Rota even when we have enough staff, she constantly pulls us up about times to work, for e.g. she said we have to get ready before our shift to start work mn time.she is very restrictive with products we need to use ,(we are housekeepers) she tells us she can put us on weekend Rota without asking when not our shift , he advised to put a grievance in but only 3 of us will do it and I am worried if unsuccessful. I have worked there 7 years
---
Our Response:
You cannot be dismissed for putting in a grievance. If you were, you could apply for unfair dismissal. However, if you are unsure about your rights you may wish to give Acas a call, in order to ensure that there can be no repercussions for your actions.
ComplaintExpert
- 10-Aug-18 @ 12:01 PM
Our new supervisor is very strict and is causing me and my colleagues a lot of stress. She constantly changes the work Rota even when we have enough staff, she constantly pulls us up about times to work, for e.g. she said we have to get ready before our shift to start work mn time.she is very restrictive with products we need to use ,(we are housekeepers) she tells us she can put us on weekend Rota without asking when not our shift , he advised to put a grievance in but only 3 of us will do it and I am worried if unsuccessful. I have worked there7 years
Foxy
- 7-Aug-18 @ 4:02 PM
We have a new managing director join the company so the main boss can spend more time with family and concentrate on other business. Since this new manager has started, I feel as though the work place is unhealthy (not the only employee who thinks this but only one to speak up). My belief is whether you start at 9am, if you are 1 minute late on occasion (not every day), there should be an understanding and it shouldn't be pointed out in front of everyone. I always used to, before she came on board, work till late and never used to demand additional pay as that was just how I am. I like to help but now have become the type to go in for 9 and leave bang on 5.30pm and not wait a minute. I used to love going work but feel as though she undermines the way I work as I am way younger than her. I feel as though she cannot work with younger generation. We are not allowed to have small talk in the office with each other as it stops her from 'thinking' and we have to sit in silence throughout the day. I do not take proper lunches as it is hard to work out lunch rotas as she has said there must be 2 people in the office at all times (our team in the office is of 4 people). So working out lunch rotas is hard and therefore, I do not go and work through it most times. We are not allowed to mess on our phones, despite me telling her I have got personal issues right now that need my attention, but however, I do not use my phone everyday. From 1 call after maybe a week of a 'personal' call, she sent out an email to ALL staff but I knew it targeted me about personal calls. So we have got an email war going on at the moment about this. I feel she should be more understanding especially when I work through most my lunches and not complain about a small call I took, bearing in mind I do not take my rest breaks either. She vapes and takes breaks when she wants and leaves office early when it suits her for 'vets' but we are not allowed to leave a minute early. When we have taken 'sick' days off, she harasses and calls throughout the day and is sarcastic and says 'just checking to see you're alive still', if someone is sick, then you should leave them to it, they are probably resting or at an appointment. I was a HR Manager in my last job and bearing in mind I did that, she undermines the way I do things, like she is teaching a school kid. Leaving scripts on machines to pick up calls, I have done this for nearly 5-6 years and know how to use Customer Service. If you sigh a little she has to ask why we sighed. She builds her workload and passes on doing nothing all day in our eyes, it feels as though a teacher is handing out work and constantly asking how its going and then having a go at you for doing something wrong (i.e. using your phone). I feel as though it's gone passed a joke, the management all tell each other everything, so I am worried going to the main boss and he doesn't keep it confidential. How do I tackle this? It is getting hard to work with her now.
i worked beaconhouse school systems from past tow years as a sports teacher. I am very much fed up about the behavior of my coordinator he always put extra burden on me and demand me to do it as quick as possible. that hurts me a lot and insulting me in front of other staff and students which is quite embarrassing for me as a hard working girl. i raise this issue with my head but he never satisfied me with his action, what should i do know kindly prepare short Email for me which i sent to My Director Sports. regards Noori
noori
- 29-Mar-18 @ 7:10 AM
I am a 58 year old female. I have worked for the same Tim Horton's for almost three years now. I am a very dedicated, hard worker and respectful employee. I have always put pride into my job. Our Tom Horton's is a very fast paced and stressful environment. I completely understand that my manager is constantly stressed trying to keep our times.As are all the employees. my manager has called me a liar two different times in the last couple days. there has not been any occurrences that have warranted the comments. It just comes out of her mouth. I am severely hurt and offended by her words.I am usually like a duck that lets it just run off my back But, this time it has effected my working mind.How should I handle this. Thank you
Started a new job, I am a very hard worker & I always find something to do. I never have the mind set that's not my job. I'm a team player. The head server is very intimidated towards me. I'm not trying to take his job. Anyways he is ALWAYS saying negitve comments on my work performance & never says a word to the lazy employees that don't work & Facebook on the job. Tonight I went to his boss & complained. I also got paid tonight when pay day is 3 days from now... am I fierd??
Mfc
- 16-Sep-17 @ 8:54 AM
Hi. My name is Melvyn Williams. I use to volunteer for a retail Charity shop called Mind, on 257 Kentish town road. I started on Friday, August 28th 2015 up until Wednesday, June 14th 2017. I was a dedicated volunteer over this period of time. Even on my days off, I'd pop by the Shop to ask if any help was needed - which it often was, because a lot of the volunteers did not show up for their shifts, nor did they have the decency to ring or text to cancel their shift. So, I was often covering for other people, which I didn't mind – it was a pleasure. I also helped over the Christmas period, when other people put their holiday plans first. I stayed loyalto the shop and gave up my time to help in the Shop. I can honestly say I am the most loyal volunteer that the Shop has ever had. There is a manager at the Shop called Chiara who had funny mood swings. One day she could be ok, and on other days she could be snappy and moody and take it out on the volunteers. On Wednesday, May 24th, I made a comment as a joke, which was maybe in bad taste. I said, "Hi Chiara, how's your mood today?" I apologised for saying this but it led to Chiara sacking me. I emailed head office and told them about all of the inappropriate things Chiara got me to do for her, like her giving me £60 a fortnight to buy her hash (ganja) when I didn't even use ganja myself, nor would I ever buy it for anyone else, because there was another volunteer that used to buy ganja for her, but Chiara feel out with this volunteer, and he no longer worked the shop, is why Chiara started asking me to buy hash for her. There was also a time when Chiara used to give me money to buy her pornographic magazines,because she told me she was too embarrassed to buy these magazines herself. And like a fool, I used to buy them for her too. On Saturday, June the 4th, I saw Chiara on Holmes road in Kentish town, and I crossed over the road because I didn't want to talk to her, but she pleaded with me to cross back again to speak to her. She wanted me to drop my complaint I made about her to head office. She told me that if I dropped my complaint she would give me my job back. So, I eventually dropped my complaint, but she tricked me. Chiara was now only allowing me to work one day a week when, before, I used to work a minimum of three days a week, plus extra days helping out in The Shop. I complained again to head office, because I believed that Chiara was being spiteful in allowing me to work one day only. These are the spiteful games that Chiara likes to play with people. Anyway, I worked on Wednesday, June 14th 2017, and then Chiara had a sly word with the Mind Charity's area manager, called Gordon, behind my back, and got him to ban me from The Shop. I was devastated. After all the loyalty I showed to the Shop, and then to just be thrown away like a piece of rubbish. I feel let down by Mind as a Charity. I believe that this Charity has no respect for their volunteers whatsoever. Whenev
mel
- 16-Aug-17 @ 6:00 PM