Complain Constructively In The Workplace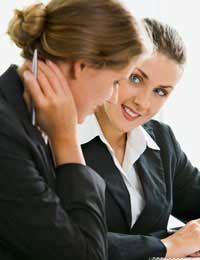 As a tool to initiate positive change, complaints have an important role to play in the workplace, but only as long as they're constructive.
The Positive Force of Complaints
To complain in the workplace is a tricky business; if it is allowed to flourish it can damage office morale and productivity but if it is suppressed then it will just move underground and prove even more toxic.
The key is to not try and kill it but control it and harness it as a positive rather than negative force. Complaining has a place in the work environment as a means to initiate positive development and help the team to move forward. But only if they are constructive complaints, unconstructive complaints have the opposite effect and drag a team back.
So if there's something annoying you or creating workplace stress and you want to air your grievance then how do you know whether you're being a positive force for change or a thorn in the side of your workplace - what is the difference between constructive and unconstructive complaining?
The Difference between Constructive and Unconstructive Complaints
To put it simply, can your complaint be defined as constructive criticism or simply moaning?
Whereas one criticises something and suggests how it can be improved, the other has no aim other than to air disgruntlement, and is akin to complaining about the weather. To be more precise, constructive complaints:
Address the problem and not the symptoms.
Are raised at the right time so that appropriate action can be taken if necessary.
Are addressed to someone that has the power to take action.
Look for solutions and not someone to take the blame.
Are raised when the complainant is in a clear and rational frame of mind rather than an angry fluster sparked by workplace stress.
Are in the interests of the whole team and not just those of the complainant.
Valuable Skill
Being good at handling constructive complaints is an enviable skill in the workplace. The ability to identify problems and think of solutions demonstrates to colleagues and superiors that you an intelligent and dedicated member of the team and, far from being a nuisance, any progressive company would look to your abilities to help lead the way.
Unconstructive complainants, or moaners, quickly develop the wrong kind of reputation. Moaners leave an unpleasant trail of doom, gloom and pessimism - their efforts seemingly motivated by a self-important desire to undermine the efforts of the team rather than help it along. So whereas constructive complainants can use their skills to further their career, unconstructive complainants are effectively killing off theirs.
To Complain Constructively
If constructive complaints are an art then what are some key techniques for producing a satisfying result?
Although they may be an indication of something going wrong, it is important to see complaints as positive rather than negative things. For instance, when presenting your complaint to your employer it's vital that you present an idea of how something can be improved for the better rather than simply attacking it. The term 'constructive' can therefore refer to how the complaint builds on what came before rather than destroying and starting again.
This avoidance of destruction should be reflected in the communication between the complainant and the recipient. There is nothing constructive about hurting their feelings and pride by trashing their plans - it will only provoke animosity and damage the complaint's chances of success.
You might also like...
Where are the tips / examples to take action?
hrodric
- 18-May-11 @ 7:51 AM