Complaining About Anti Social Behaviour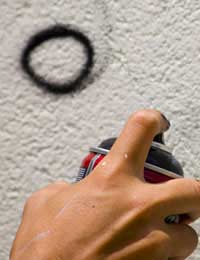 Anti-social behaviour can blight community life and if you suffer as a consequence it is your responsibility and right to take action to stop the public nuisance.
What is Anti-social Behaviour?
It can mean different things to different people, but the official line is that anti-social behaviour is that that causes, or likely to cause, harassment, alarm or distress to one or more people not in the same household as the perpetrator.
Typically this behaviour includes; Verbal abuse, racist and homophobic abuse, intimidation of people through threats or violence, dumping rubbish, vandalism and criminal damage, use of property for illicit purposes, noise and Child bullying.
Crucially for such behaviour to qualify as being an anti-social problem rather than an unlawful act it must be persistent.
What Action Can be Taken?
The appropriate action to take depends on the type of anti-social behaviour being committed and the type of resolution you are seeking. For instance, you might want compensation for damage or injury suffered, for the perpetrator(s) to be moved from the area, or simply an apology and an assurance the behaviour will stop forthwith.
The options open to you include contacting the local authority, the landlord, the police or taking action yourself.
Face to Face Resolution
If you just want the anti-social behaviour to stop, and it is appropriate, then the immediate course of action should be to contact the perpetrator directly yourself. They should be given chance to resolve the issue before it escalates into an official complaint. Many anti-social problems are nipped in the bud with face to face communication.
Explain what the problem is and how it is affecting you. It is important to stay calm and reasonable at all times, and listen to the perpetrator's point of view. If the discussion leads nowhere then rather than descend into a futile argument it is advisable to retreat and seek alternative action.
Mediation
If you don't want to resort to official action but can't come to a satisfactory resolution with the perpetrator then it might be worth considering a mediation scheme. This is where a neutral third party helps two disputing parties to achieve a mutually acceptable solution. There are community mediation services available for free which specialise in disputes between neighbours or anyone within the community over issues like burglaries, parking, rubbish and noise.
Mediation is only a viable option if the perpetrator of anti-social behaviour consents to trying to seek a resolution. If they are unwilling then you will have to resort to third-party intervention.
Contact the Landlord
If the perpetrator lives in rented accommodation then one option is to ask their landlord to take action against their anti-social behaviour. The landlord may have a set policy and procedures for dealing with such problems. Local authority landlords, for example, must have anti-social behaviour policies in place and in England and Wales, so must housing association landlords.Nevertheless any landlord has the power to take action against anti-social behaviour. They could ask the police or local authority to take action, apply to court for an eviction notice or an anti-social behaviour order or, in exceptional circumstances, even re-house the victim or perpetrator.
Contact the Local Authority
Another option is to make a formal complaint to your local authority. Councils are duty bound to investigate anti-social behaviour, such as petty vandalism, drunkenness, intimidation, excessive noise, which adversely affects their constituent community.
They also have the power to take action against those citizens who are causing the public nuisance. They can:
Apply for a court order to stop or prevent a citizen's anti-social behaviour in its area.
Apply for a court order to shut down premises that are the source of persistent disorder.
Prosecute if the behaviour constitutes a criminal offence.
Take action to evict the individual responsible for anti-social behaviour if they live in local authority accommodation.
Offer the victim alternative accommodation.
If you are unhappy with the way the local authority deals with your complaint about anti-social behaviour then you are entitled to contact the local government ombudsman.
Contact the Police
If the anti-social behaviour constitutes a criminal offence then you should contact the local constabulary. They will be able to prosecute somebody who has, for instance, attacked another person, wilfully damaged someone else's property, incited racial or homophobic hatred, or caused harassment, alarm or distress intentionally.
Taking Legal Action
Victims of anti-social behaviour have been known to take matters into their own hands and pursue legal action to claim compensation or an order to stop the perpetrator continuing their behaviour.
However, before pursuing this path it is recommended that you first consult an experienced adviser, such as the Citizens Advice Bureau.
You might also like...
15 days back me and my husband vacated house i:e 102 bathroad harlington UB35AL. That landlord is harrasing us some posts were going to that house we have changed address but urgent posts were not updated newaddress when I went to collect my letters she is not giving my letters she hidden all my letters if I ask means she was manhandling me ... So please understand our problem she is showing racicm. Please help me to get my letters back
Pandu
- 2-Aug-20 @ 2:35 PM
Peploe chucking think out of there window
Den
- 27-Jul-19 @ 9:24 AM
Have recently moved to a block of flats with a history of ant-social behaviour.My landlord told me my first month in the flat that the lady who had occupied the tenancy had left because of this previously, and she felt I should be warned, I had already moved in and had been in the new flat for about 3 weeks by this time.After the 3 week, there was a knock on my door and Nicola who lives above me under some kind of influence was stood there demanding I turn down my TV, and insisting I accompany her to her flat to listen to the noise, she was violent in her body language and speech, I refused to go with her and she called our landlord and reported me for noise pollution, but I, in turn, explained she had knocked on my door in a threatening manner. Weeks went by and incident after the incident was reported, I in my flat alone, here for a new start began to worry about the constant lies about me to the landlord.One day I went outside to hang out washing to dry in the communal area and she verbally attacked me again this time drawing in another member of the block, who maliciously joined in. I taped some of the conversations and called the ASB team/landlord, they listened and did nothing. They refused to put in noise equipment as apparently, this was going to prove too difficult. I worry weekly about the phone going and answering it again to the landlord who has received more lies about me as a Tennant.I have reported this to the police, but they say the onus is on my landlord to get this stopped. I am seeking advise from shelter. Dealing with the death of my mum 3 days ago, home this evening and Tennant shouting up for me to get out of my flat. ......... may need to see a solicitor.Need an order how would you deal with this, especially since my landlord does not seem to want to tackle the issue?.A local councillor in the area also told me that there was a history in this block of flats of ASB behaviour.
complaint against the tenant who has kept his room on heavy deposit. and know the person who is on heavy deposit he is trying to use our property for illicit purposes.and using abusive languages. we are harrased by him. please advice us what to do.
minu
- 31-Dec-17 @ 1:17 PM
@Tic - if you definitely know there are drugs at the party, ring the police. The council may then sit up and take notice if the police are involved.
JillS
- 21-Dec-17 @ 10:40 AM
Since moving in my neighbour has been playing loud music at all hours shouting parties. Peopke outside my windows smoming weed yelling swearing. Throwing rubbish in my garden. I live in a downstairs flat. It is in the hands of the council but they keep giving her chance after chance even though never turns uo for meetings and ignores all correspondence. Im now on a high dose of antidepressents suffering from panic attacks and insomnia. Tjis has been constant for over 6 months im now at the end of my tether. I work.long hours and pay my rent on time. Ive tried to log a formal complaint at how this has been dealt with but has fallen on deaf ears
Tic
- 20-Dec-17 @ 10:08 AM
Hi there My landlord got a new boiler and loft insulated through a government scheme because I get disability benefits now he has all this done for free he now wants me to leave what i I do about this now.
Pompino69
- 6-Mar-16 @ 6:06 PM
hi i am working for tesco in eastham one man always take my pictures and i dont know what he do with them him and his wife do this often to my staff and we feel harassed and scared can you please advise us what to do many thanks
SALEEM
- 9-Feb-16 @ 9:55 AM