Making a Telephone Complaint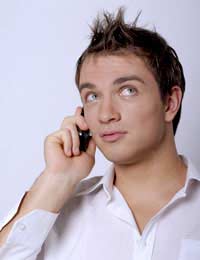 If it is not possible to take direct action and try to resolve a complaint in person then the next best option is to contact the company via telephone.
Call Centres
Telephone complaints have acquired a bad reputation because most people who are forced to make them have at one time been on the wrong end of a
call centre
queue.
Call centres are centralised offices comprised of telephone and computer operators that are used by big companies to administer large numbers of consumer queries.
Although they can be very helpful in resolving queries they also attract a great deal of hostility from callers that find the route to resolution a long and fraught one. Common complaints draw attention to the non-expert operators, the impersonal script they follow, the lack of communication between staff and departments and, of course, the wearing queuing times.
Logging a Complaint
Their wide publicity may lead one to believe that
call centre
s are the modern way for consumers to communicate with a company, but on the contrary they are in the minority. Typically they are the preserve of large multi-national businesses, whereas most other companies operate their telephones on a more modest level.
Most companies operate a system whereby a caller phones up with their problem and the person at the other end logs the complaint on a special complaints programme. If they are unable to resolve the problem immediately then they will deal with it in the company's standard time frame. This could be anywhere from 24 hours to a couple of weeks.
The system is an efficient one because when the employee logs the complaint they are then solely responsible for its resolution. If they ignore or are slow to act then it shows up as a black mark on their records.
Keeping a Record of Events
When complaining by letter, it is easy to keep a record of everything that has happened, from the date a certain letter was sent to what the company said in response. A telephone complaint does not generate such concrete records and so the caller must create their own.
They can do this by firstly always asking the name and contact number of anyone they deal with and then writing it down. They should also make a note of the time of the call and the date. These details can be used to follow up the complaint either with another telephone call or with a follow-up letter. Most companies will keep a record of all the calls made and this information is proof that a conversation occurred.
The caller should also note down the important points of what was said during the conversation. The person on the phone may for instance promise to deal with the complaint within the next 48 hours and if they fail to do so then this record of the conversation could prove useful.
What Has Been Agreed
When the caller ends their communication they should be completely clear about what has been agreed, what is going to happen and when it will happen by. This information should be duly logged and monitored. If nothing happens in the allotted time then the complaint should then be followed up immediately.
The Follow-Up Letter
A follow-up letter summarising the complaint and utilising all the information accumulated during the telephone communication is the finishing touch to the most effective and professional method of resolving a complaint over the telephone.
You might also like...
I have one month pay in full this month 65 pounds I do have bills to pay
Frederick
- 8-May-20 @ 3:35 PM
Tried to complain to Iberia Express no uk telephone number or reply email address - on their website you can complain but no acknowledgement from anyone or policy details.Unable to speak to someone about the matter, they just say sorry.I am looking to receive compensation or reimbursement for luggage checked in by them which is now damaged and arrived back after 11 days. Any suggestions?
None
- 26-Jul-17 @ 5:07 PM